Sunday, May 14, 2006
RIBBIT AND GOODBYE
Just my luck, after months and months of waiting, the
indictment
we've all been waiting for appears to be in the offing and I won't be able to revel in the blogsplosion of joy that's sure to result. Yep, it appears this may be the week that little shit bloom Karl Rove is
finally frog marched out the White House
. Sadly, I won't be around to write about it. Yep, life is taking over this week, so posting will be light if it happens at all. Not that I'm complaining, the faster that doughy puke is knocked out the picture the better. Good riddance shitbag.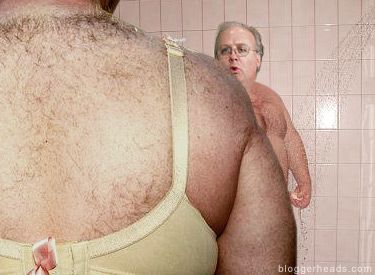 Say hello to your new roommate Karl.
(image from
bloggerheads.com
)
I'll be back in a little over a week, soon enough to cover the Bushtanic snowball as it thunders toward it's next inevitable target, Big Dick. We all know Cheney's handwriting has been all over this thing from the beginning -- or should I say,
in the margins
. Can't wait to see them all go down in one massive fireball of comeuppance and schadenfreude. I just hope we don't all get enveloped by the flames...
Just remember, things could've all turned out very differently, as a certain former VP gently reminded us
just last night
.
If only...
There will be plenty of coverage of this week's implosion from sources much more knowledgeable and talented than I, so get the following into your favorites, onto your rolls and into your daily routine if they're not already there:
Crooks & Liars
FireDogLake
Shakespeare's Sister
D-Renegade
Whiskey Bar
Think Progress
And check the 'Roll' to the right for more talented voices. These are but a few of the folks at the heart of a powerful movement that the politicians and establishment media are still struggling to understand. The revolution is now, best start paying attention. See you all in a week.
Comments:
http://www.computers-guide.co.in
In the developed world, virtually every profession makes use of computers.
However, certain professional and academic disciplines have evolved that
specialize in techniques to construct, program, and use computers.
Terminology for different professional disciplines is still somewhat fluid and
new fields emerge from time to time
Post a Comment
Links to this post: