Monday, March 13, 2006
BUT CAN HE SING SOPRANO?
After an unintentional weeklong hiatus from intensive news and blog consumption, I come back to find that not much has changed. Mostly, Bush is still
clueless
, Cheney is still about as popular as Stalin (check that,
Stalin wins
), and politicians on both sides of the aisle are still
opportunistic leeches
. But the most heartening consistency has to be that of Delusional Donny Rumsfeld, who offered up
this rationale
last week before Congress while denying that things were getting worse in Iraq:
"From what I've seen thus far, much of the reporting in the U.S. and abroad has exaggerated the situation," Rumsfeld said. "We do know, of course, that al Qaeda has media committees. We do know they teach people exactly how to try to manipulate the media. They do this regularly. We see the intelligence that reports on their meetings. Now I can't take a string and tie it to a news report and then trace it back to an al Qaeda media committee meeting. I am not able to do that at all."
Ok, I have to ask, has he finally gone absolutely batshit insane? Seriously, he makes
Uncle Junior look mentally stable
. If we're lucky, Rummy will put a plug in his boss' gut too.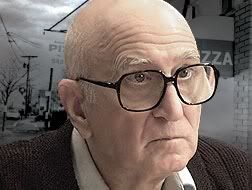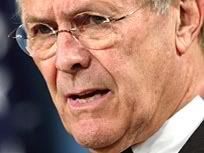 The dementia twins.
Of course, Dick Cheney may be
better suited
for that job.
MORE
Progress:
Iraq in Crisis
LAT:
Iraq a 'Pandora's Box'
Pace: '
Things are going very, very well.
'
Colbert:
Welcome to The Long War
(C&L)
Links to this post: