Monday, April 17, 2006
ANNA BENS*N SUCKS ASS
I hate Anna Bens*n with a fiery passion. Who is Anna Bens*n you ask? Well, for starters, she may be the person who single-handedly shuts down this blog. She's also the wife of major league baseball pitcher Kris Benson, a former New York Met, current Baltimore Oriole and constant shadow to his larger-than-life, ex-stripper wife. More than two years ago, when Anna -- er, Kris -- was traded to the Mets I made the fatal mistake of posting about her arrival in Gotham. Ever since, she's been playing havoc with my site traffic, hence the redacted 'o' in Ms. Bens*n's name.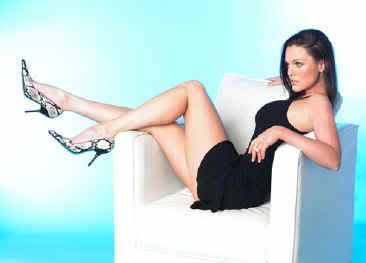 Pure, unadulterated evil. In stilletos.
She came in with a roar, proclaiming loudly on Howard Stern that if her husband ever cheated on her she would sleep with every member of the Mets organization, right down to the batboys. Naturally, I had to make mention of this, and it didn't hurt that she's smokin' hot... in that skeevy stripper kind of way. Oh, and I had just figured out how to post photos on this thing, so yeah, posting about her was inevitable. But I rue the day, I really do.
Now, every few weeks, I'll get a huge surge in my site traffic. At first glance I'll think, 'cool,
Crooks & Liars
or maybe
Shake's Sis
linked me!', because I'm narcissitic that way.
But then I look closely and realize that most of my visitors have come looking for pictures of this scantily clad trollop. I've long since deleted the original post, but the slobbering masses just keep coming. Every time I see my numbers surge into the thousands I know that she's opened her stupid mouth about something. Or she's dressed up in a low-cut Mrs. Claus outfit for a children's charity event. Or she's filed for divorce from her husband. Or she's reconciled with him only three days later. She's insane I tell ya, and she won't go away.
And the worst part? She's a gun-toting, fur-wearing, Dubya-loving Republican.
As I said, I may just have to fold up my blogging tent and go home. Thanks a lot Anna Bens*n.
Links to this post: