Sunday, August 13, 2006
ALSO KNOWN AS THE "SHIT FOR BRAINS" CLUB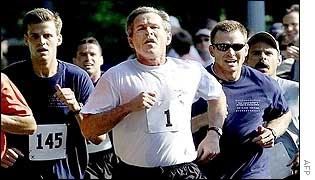 'Come on ya pussies!'
From
NPR
, a few days ago:
President Bush spent his afternoon not buried in Middle East diplomacy, but daring his staff at the ranch to join what he calls the "100-degree club." The phrase literally sends shudders down staffers' spines. The president challenged White House employees to run three miles in the central Texas heat across the scrubby terrain on his property.

Those finishing the three miles got a T-shirt from the president. Mr. Bush did the course on his bike (his bad knees prevent him from running these days), but rode back to join the runners as they came in. I'm told the president was friendly and encouraging in the most fatherly way -- as he pedaled around the sweaty troops. According to the Weather Channel, the temperature on this patch of Texas was exactly 100 degrees when the run took place. The heat index was 102.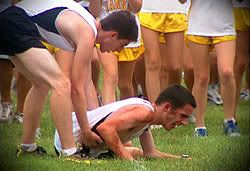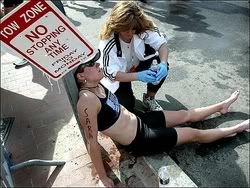 Uh, looks like we're gonna need a new cabinet...
This really shouldn't surprise anyone, should it? Apparently, that torture doctrine applies to his own staff as well as the ter'ists. What an asshole.
Links to this post: