Friday, April 21, 2006
W IS FOR WICKED
Hmmm, let's see, Karl Rove is '
stripped of his policy portfolio to focus more on politics
.' What possibly could that mean? Is he being punished? Has he lost some power? Hell no, Bush's evil brain is simply regaining his focus. His mission? Operation Save The Boy King. Let's face it, Bush isn't a popular president. In fact, what's that I hear? A
35% popularity
rating? Damn, that's downright Nixonian. Oh, and what's this? Did someone say
33%
??
Wow. Bravo Sir! It's hard work to be that unpopular.
Naturally, it's Rove to the rescue. And with that in mind, imagine if you will, a little musical theatre. Imagine Kingmaker Karl as Glinda, singing in the ear of Bush's
Elphaba
, to the
tune
of '
Popular
' from the smash Broadway musical,
Wicked
. Places please everybody, places!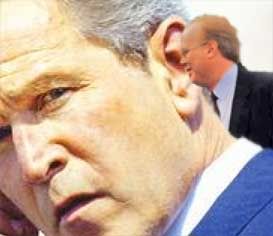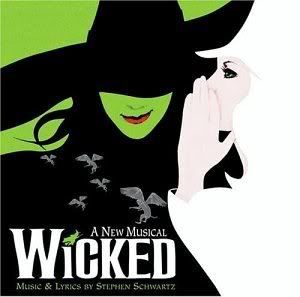 When someone needs a makeover
I simply have to take over
I know I know exactly what they need
And even in your case
Tho' it's the toughest case
I've yet to face
Don't worry,
I'm determined to succeed
Follow my lead
And yes, indeed
You will be...
Popular!
You're gonna be popular!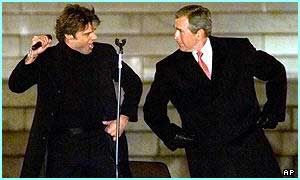 Everything that really counts
To be popular
I'll help you be popular!
You'll hang with the right cohorts
You'll be good at sports
Know the slang you've got to know
So let's start'
Cause you've got an awfully long way to go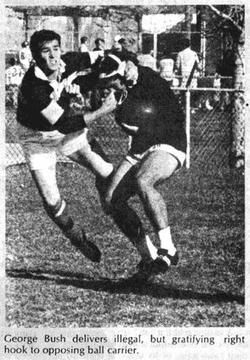 When I see depressing creatures
With unprepossessing features
I remind them on their own behalf
To think of
Celebrated heads of state or
Specially great communicators
Did they have brains or knowledge?
Don't make me laugh!
They were popular!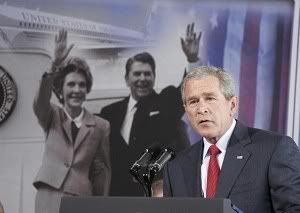 Please -
It's all about popular!
It's not about aptitude
It's the way you're viewed
So it's very shrewd to be
Very very popular
Like me!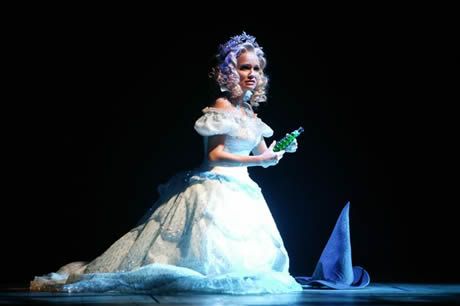 In the end, Glinda failed. So too will Rove, and Bush will melt away. Oz will be free.
Links to this post: