Wednesday, April 26, 2006
SWEATIN' WITH THE TWINS
I love when the Bush twins make the gossip pages. This from
today's NYDN
:
One personal trainer at the Sportsclub/L.A. in Washington, D.C., is sweating even more profusely than usual. During an early-morning class, spinning instructor Glenn Makl went off on a rant against President Bush — even offering a DVD of Bush gaffes to his students. Oops. Among his pupils were Jenna and Barbara Bush. A source tells Heard on the Hill's Mary Ann Akers that club managers apologized profusely to Jenna's chivalrous boyfriend, Henry Hager, who demanded an explanation for Makl's rude behavior.
An explanation? You want an explanation? How about the fact that your future father-in-law is a total douche? How's that for an explanation?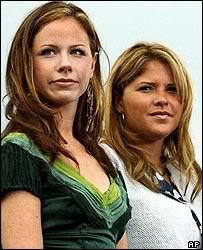 'You know, that guy's got a point -- dad is sort of a tool.'
Wonkette, of course, has been
all over this
. Keep spinning twins!
Links to this post: