Tuesday, August 01, 2006
CSONKA WOULDA HAD A CEASEFIRE ALREADY
I must apologize. I was woefully remiss in
yesterday's post
when discussing Preznit Dipshit's reaction to Sunday's horrific bombing in Qana, the one which killed 37 children. While I did make mention of the public grief he displayed on the tee-ball field, I failed to detail the intense policy negotiations he engaged in with the undefeated 1972 Miami Dolphins championship team. From
Froomkin
:
Bush spent the evening at the exclusive Joe's Stone Crabs restaurant talking about sports and movies with a bunch of former Miami Dolphins football players, an actor and the flamboyant host of a raunchy and ribald Spanish-language variety show.



It was only hours after Bush had learned that an Israeli air strike had killed dozens of Lebanese children, a moment for soul-searching if there ever was one.

But what did Bush want to talk about?



Former Dolphin Jim Kiick told Steve Wine of the Associated Press that topics of conversation included movies, the 1972 Dolphins and fellow attendee and former Dolphin Dan Marino's achievements -- but little politics.
It's hard work ladies gentlemen, real hard work.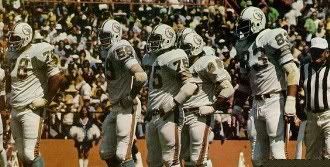 W's Middle East envoys.
Comments:
Eerily reminiscent of Nixon's question to the anti-war protesters, when he said, "How's your team doing?"
But then Nixon is the gold standard for this administration, unless you include Nero.
I'll never think of Joe's Crab Shack with fondness again. When are his supporters going to realize that he plain and simply does not give a flying carp about anyone. He has a little agenda (a big one but his role in it is small) and spends all of his time enjoying the perks of his job, surrounding himself with people who would not give him the time of day if they didn't have to, but are forced to sit there and eat crabs and listen to his fart jokes. Like they say in AA, alcoholics don't make friends, they take hostages. Bush does not give a shit, and his Christian supporters who trust him because he believes in thier God need to wake up and realize that no God would support his callous attitude towards fellow humans.
Post a Comment
Links to this post: