Sunday, March 19, 2006
DICK'S SANITY IN LAST THROES?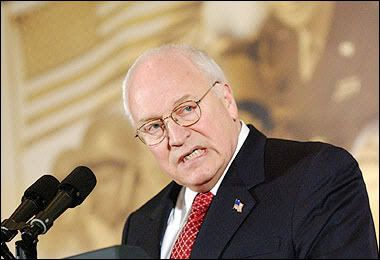 No photoshop necessary.
Actually, it's Rummy that's probably gone
over the rainbow
, not Dick. When Cheney says shit like this, I don't think he's lost his marbles, I'm just reminded once again of how big of an evil, lying, manipulative dickhead he is.
Today
:
Cheney: Iraq not in civil war, predicts success


Cheney said "terrorists" like Abu Musab al-Zarqawi were trying to stop the formation of a democratically elected government in Iraq. "What we've seen is a serious effort by them to foment civil war, but I don't think they've been successful ... I think we are going to succeed in Iraq, I think the evidence is overwhelming." (

more

)
Ok, so maybe he is nuts. Also today, former Iraqi PM
Iyad Allawi
:
'It is unfortunate that we are in civil war. We are losing each day as an average 50 to 60 people throughout the country, if not more. If this is not civil war, then God knows what civil war is.'
And Republican Senator Chuck Hagel:
'I think the former Prime Minister is correct. I think we've had a low grade civil war going on in Iraq for the last six months maybe the last year. Our own generals have told me that privately, so that's a fact.' (C&L has

the video

)
But don't worry, Dick says the '
reality based community
' is in its last throes. Phew.
MORE
Scheer: Fantasy of Progress
SFChron: Arming for Civil War
StateoftheDay:
Image over Substance

ThinkProgress: '
Fighting them there so we can fight them everywhere
.'
DallasDoc (on Kos): Why is Dick Cheney's son-in-law working for al Qaeda?
Links to this post: