Monday, June 19, 2006
BOHEMIAN GARDENS, BRAZILIAN O'BRIEN'S & WON JO
World Cup weekend #2 produced a little something for everyone, a veritable feast for the eyes, the ears and what I'm feeling most today, the belly. It was a blazing hot weekend here in Gotham, with temperatures soaring into the 90s. Thankfully, Saturday's action began in a
Bohemian Garden
, a perfect setting for sun-soaked beer and brat consumption. You know this guy was into it...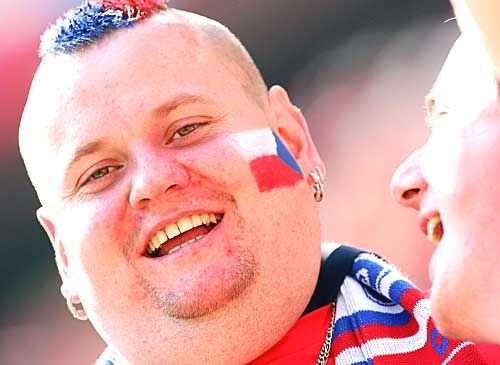 Czech yo-self before you wreck yo-self.
... and so were we. Let's go.
Going Ga-Ga for Ghana
As I rode the train out towards Queens, I noticed the man in the Ghana jersey. It wasn't difficult to see him there, wedged in between the throng of burly, ruddy-faced Czechs, sporting his brightly-colored shirt and a nervous but confident grin. The Czechs payed him no mind. Coming off a 3-0 drubbing of the Americans last Monday, they we're anticipating another easy match on this Saturday afternoon. But a little over two hours later, it was the man in the Ghana jersey who was joyfully dancing on top of the picnic tables at the Czech Beer Garden in Astoria. Ghana had just pulled off the shocker of the Cup so far,
slapping the Czechs 2-0
, and this man was the Queens extension of the celebratory eruption that had
just been ignited
in his home country.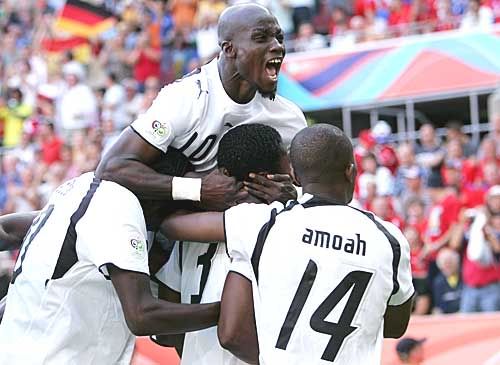 Seeing how the man in the jersey was the only bonafied Ghana supporter in the massive Garden packed full of Czechs, every single one of them fueled by a morning full of Pilsner, it was a brave move to get up on the tables. Throughout the match, the Czechs stomped their feet, pounded their steins and chanted full throat for their boys in red; I even think I heard them chanting 'whoop there it is!' at one point, but maybe not. They were an excited lot right up until the very end of the match, but even in defeat they didn't seem too bothered. I think they were just happy to see someone, anyone, dancing on the tables, so they cheered the Ghanian man on heartily and raised their pitchers to his country's triumph. And, thanks to that wacky World Cup math, the Czechs also became instant boosters of the American side in the next match, US vs. Italy.
Now That's More Like It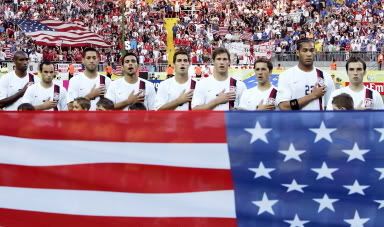 By 3 pm the gates to the Garden had been locked. The line outside reached to the N train, but the place swelled to capacity. The earlier result had upped the stakes of the US/Italy match. Suddenly, the Americans weren't so dead anymore, but they still had to play the match. For this one, I got right down in front of the biggest of the big screens, squeezing in front of the 1,000 or so bodies that had assembled there. As the match kicked off, the biggest fear of giving up a quick goal dissipated, the US side seemed to be playing with fire, with life, with energy. We were into it, cheering, gasping and groaning with every movement. Halfway through the 1st half, Italy scored. There was a sudden deflation, but that didn't last long. The US was on the board mere minutes later, thanks to an own goal from an Italian defender. Who cares, a goal is a goal, and we were all tied up. Then we started seeing red. Cards that is.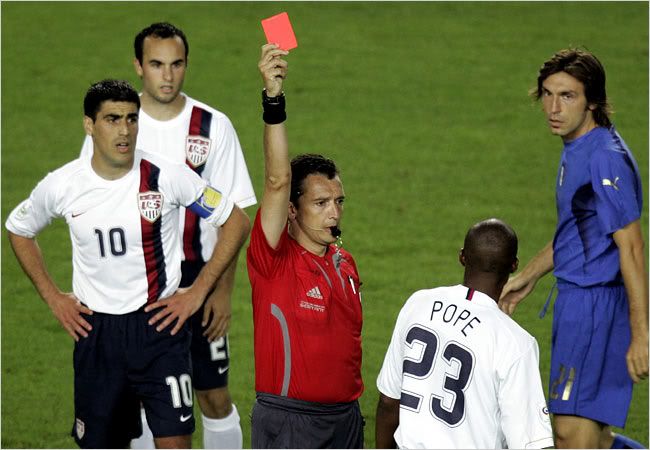 World Cup XL
A few months ago in this space, I agonized over my Seahawks getting
completely jobbed
in Super Bowl XL. As I watched this match on Saturday, my gut became similarly twisted. The goddam Uruguayian ref was looking to screw America, issuing an unprecedented 3 red cards, two to the US. But the thing about being America is, you just kind of have to take it. I mean, really, who's going to sympathize with us? The soccer pitch is the great equalizer in the minds of many who hate America, that's where they can get their digs in. And so, despite the odds stacked against them, despite being down a man for most of the second half, despite bloodied faces and elbow-throwing Italians, Team USA fought through to
gain a point
and live to see another day. There was joy inside the Garden, but mostly just a giant sigh of relief.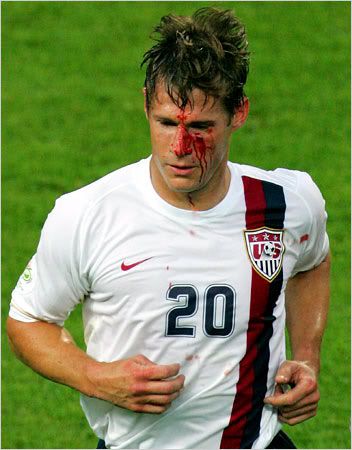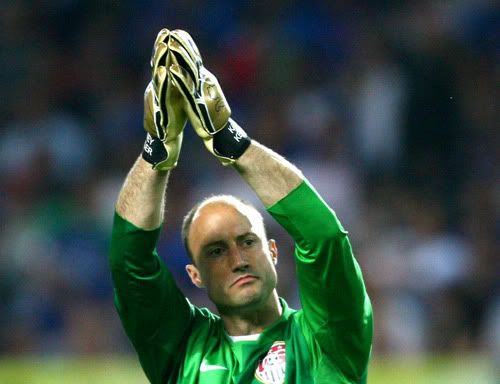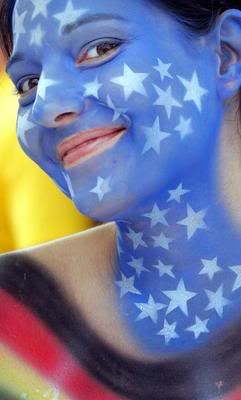 Oh, and mark this down, because you will probably never see me get all jingoistic and flag-waving on this blog again. Hell, I even did the U-S-A chant a little on Saturday. Yeesh, this World Cup shit is dangerous.
Little O'Brazilihy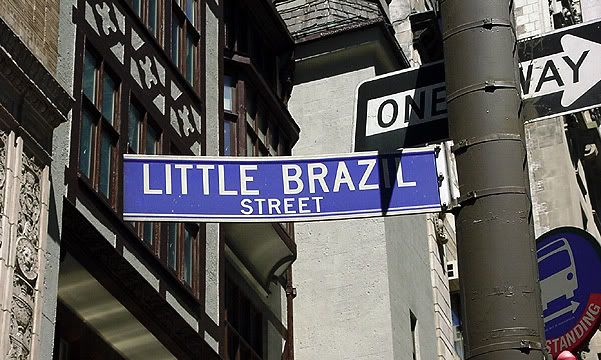 Ok, so on W. 46th in midtown Manhattan there's a place known as Little Brazil street. For Sunday's noon match, Australia vs. Brazil, I figured this was as good a place as any in New York to samba my way into the culture a bit. What I never realized, but found out on Sunday, is that there are apparently a lot of Irish pubs in Brazil. Funny that. Seriously, not one Brazilian place on the whole block. It figures, even without a qualifying team, the Irish manage to work there way into this Cup. Despite the misleading moniker, Brazilian fans still came pouring out of every pub, including O'Brien's where we settled in to watch this one. Part of me was pulling for the Soccerroos from Australia, mostly because I think it's hilarious that they call themselves the Roos, but the dominant throng of Brazilian boosters around me dictated otherwise. And when the four-year-old kid in front me was hoisted to the bar by his father to blow on a giant yellow and green horn, I knew the Aussies were
done for
.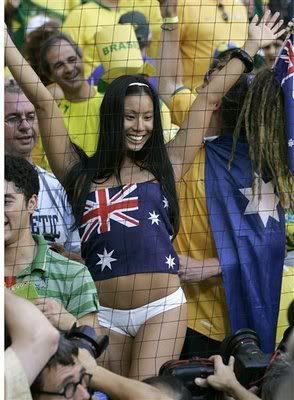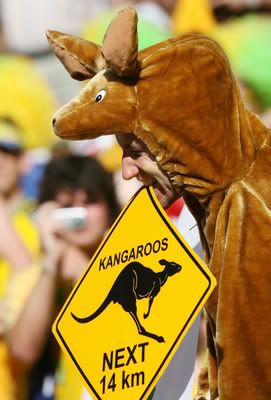 One other bit of incongruity: Brazil's clinching goal? Scored by a guy named Fred. Seriously, Fred? His last name was probably Fitzpatrick for cripes sake. Oh, and Brazil, I don't care if you keep playing
sluggishly
, just keep your fans coming to the games, ok?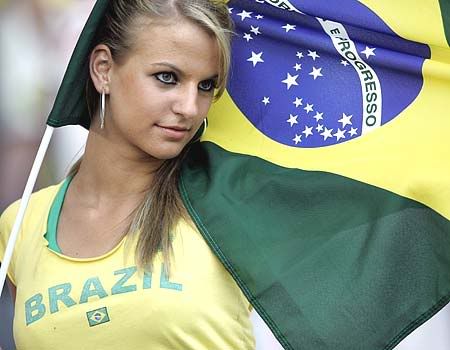 Good god, that's just not fair. Ok Brazil, we get it, your women are really hot.
Won't You Take Me To Koreatown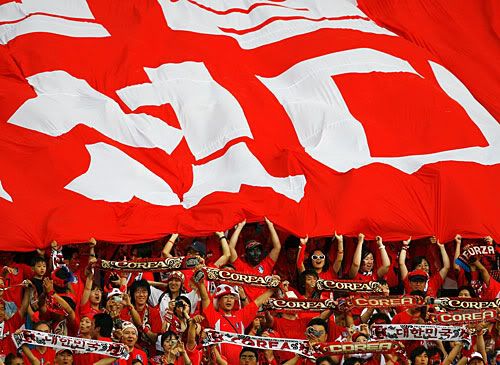 Fourteen blocks south of Little Brazil is a place called
Koreatown
. Unlike Little Brazil however, this part of the city actually has Korean restaurants, and Korean stores, and *gasp!*, Koreans. And oh were they ever out, en masse. In fact, the city decided to close the block down entirely, allowing a Korean throng to camp out in the middle of the street to watch the France v. Korea game on a giant screen plastered to the side of a building. This scenario was fantastic save for one thing: No one was serving beer out here. My friend and I had to find liquid salvation elsewhere.
After poking into several places, we finally found the right stairwell to climb, a dark, unassuming ascent into the darkness of Won Jo, a 24-hour Korean BBQ and karaoke joint. Once we reached the top, we were greeted by the anxious faces of what seemed like a million Koreans. The place was packed. It didn't matter, we were determined. We managed to find a spot to stand, we managed to find ourselves a beer, and we quickly became the favorite token white guys in the entire place. When we arrived, the Koreans were down a goal and time was running short. The crowd was nervous but still electric. We chanted along with them, having no idea what we were saying. And then, in the 81st minute, anxiety
turned to elation
as Park Ji-Sung managed to poke a goal in and even things up. The place went absolutely bonkers. It literally bounced. I was scared for a minute, but instead of crashing through the floor and becoming part of a tragic NY Post headline (Bulgogi Tragedy in Koreatown), we spilled out onto 32nd Street with the rest of them and screamed our stupid, non-Korean heads off.
Be the Reds!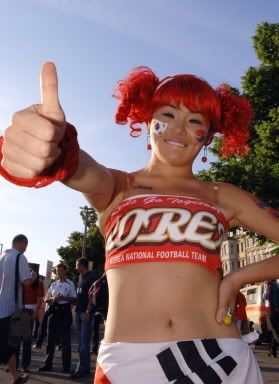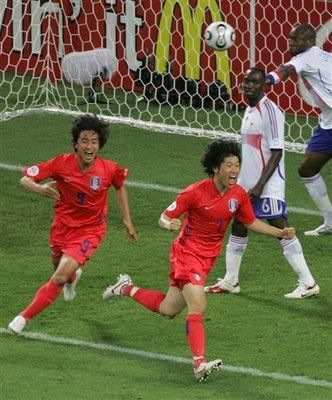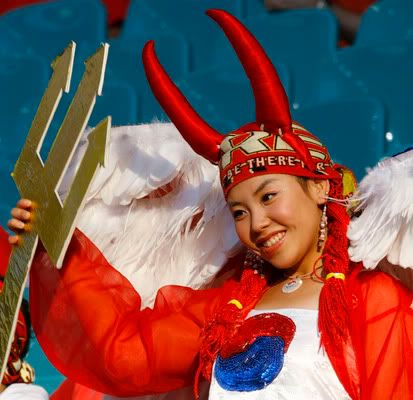 And to think, we had thought it would be more fun to watch this match at a French restaurant. Non!
This coming week, I'll be sneaking out to catch the US vs. Ghana and Italy vs. the Czech matches. If the US and Italy both manage to win, it's on to the Round of 16 for the Americans. And on Saturday next week, I'll be immersing myself once again in the cultural bounty that is New York City during the World Cup (i.e. drinking beer with foreigners).
Until then, keep dancing like a Ghanians everyone.
MORE
NYT: Blogging the Cup
Deadspin:
Live from Kaiserslautern
Simpsons:
Mexico vs. Portugal
(via DS)
NYT:
The Paradigm Has Shifted
(oh, and suck it Kissinger)
Comments:
Talking of red cards yesterday's Holland vs. Portugal saw 4! I think the Dutch have done some favor to Englad.
And the Ghana guy is here too:
http://slacklalane.blogspot.com/2006/06/bohemian-hall-beer-garden-you.html
Post a Comment
Links to this post: