Wednesday, April 26, 2006
The DAYS DAILY 5
We got your daily internet chatter right here!
1. Fitzmas, Fitzukah, l'affair d'Plame, etc: Ooooh, I'm getting that
tingly feeling
again. Truthout is reporting that Karl Rove's
volunteer appearance
before the Grand Jury today was prompted by receipt of a
target letter
(i.e. a 'you're about to be indicted' letter) from St. Patrick. Check out the
DAYS archives
for a refresher on where we left off in this case. Even more useful, the gang at FDL follows every machination of this complex case
right here
. Put out your milk and cookies everyone, Santa Fitzgerald's coming to town.
2. DNC: I wouldn't normally link to something directly from the Democrats because typically they're just a frustrating pack of spineless cowards, but today's memo to W's new spinmasters, Tony Snow and Josh Bolten, is pretty damn good. Hey, maybe the Dems are finally growing a pair? Once again, a tip 'o the cap to the incomparable Shakespeare's Sister.
3. MediaMatters: Speaking of new press secretary Snow, here's a partial collection of a career's worth of
falsehoods and misdirections
. Frankly, he's the perfect man for this job.
4. Evan: "Forget bird flu,
impeachment is spreading
across the nation, state by state."
5. Worker #3116: Do you believe you are retarded? (hilarious site, btw. check it out.)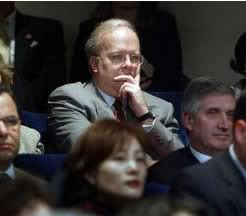 'I am so fucked.'
ON THIS DAY: In 2001
World Intellectual Property Day
was founded. Man, if I had only known, I would've taken the day off. Curses! This year's theme, by the way, is "It Starts With An Idea." Hey, I have an idea,
let's impeach the president!
Links to this post: