Friday, April 21, 2006
The DAYS DAILY 5
A daily round-up of what's buzzing 'round the interwebs.
1. Stephen Colbert gives us a Happy Earth Day message. (from OGM)
2. Conason: Attacking Iran? Are They Nuts? (Yes. Yes they are.)
3.
Milbank: A Host of Indignities (A few things not to do when a head of state visits: Introduce him as his enemy, yank on his jacket as if he were a child, take a nap, allow a protestor to scream in his face. No wonder the summit produced little result. Whatever, they're both fascist dicks anyway.)
4. Norbizness imagines how Bush may have handled President Hu's visit: "Huuuu are you?"
5. Pink: Dear Mr. President (I don't like Pink; at least I didn't until I saw this. Watch it.)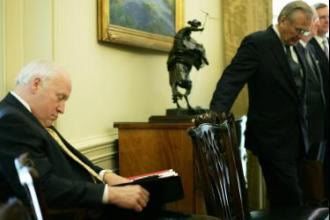 Wake up Mr. VP! Your pants are on fire!
ON THIS DAY: In 1962 The World's Fair in Seattle opened. The space-age themed exhibition relied heavily on the 'Googie' architechtural style, highlighted by the introduction of the Monorail and the opening of the landmark Space Needle. At the time, the 1.2 mile track of the Monorail was touted as the first stage in a revolutionary new form of transit. Today, the track is still only 1.2 miles long. As for the Needle, dinner at the revolving restaurant averaged about $7 when it opened. Today, that much may get you a glass of water at the place. Forty-two years later, my girlfriend would make her first-ever visit to Seattle. When asked by my father, who she was meeting for the first time, what her impressions of the city were, she would answer: "Well, your needle's a lot smaller than I thought it would be." That's my girl.
Links to this post: