Sunday, March 19, 2006
ABOUT THAT MISSION
As we observe the tragic third anniversary of Operation Clusterfuck, President Bush has pledged to
"finish the mission" and achieve "complete victory"
in Iraq. But wait, I'm confused -- what about this sir?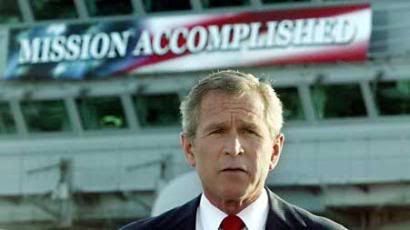 Uhhhh...
How about this for a mission? Get out and let them know (loudly) that you disagree with how their running things. Iraq is obviously the biggest of all their big mistakes, but on all fronts these fools need to be confronted and reprimanded for their actions. One way to do this is to speak out against them at one of the
500+ antiwar activities
already planned to coincide with the 3rd anniversary of
that regretful day
when 'Shock and Awe' shocked and appalled us all. Take a moment to find an event near you; I'll be at
this
. Every action, no matter how small, can add up to make a big difference.

Tell President Bush:
'We Hate Your War.'
MORE
Iraq Body Count
Hebert: Stop Bush's War
NYT: The Stuff That Happened
Assclowns:
Happy Anniversary!
Think Progress: Complete Timeline
ICH: Bush's 'Bring 'em On' photo album
Rumsfeld, March 2003: '
It'll be a short war
.'
Links to this post: